Ing. Ľudovít Horvath, MBA
( Lali ))
Certified 1st Class Coach - Wing Tchun
Sifu, principal and official teacher of W.A.T.T. in Slovakia.
Master Coach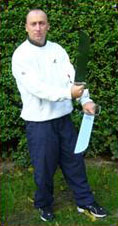 Academic Background:
Faculty of Mechanical Engineering, STU (Bratislava). Specialization: Environmental Engineering, Measurement and Testing (UAMAI).
Institute of Law and Professional Education Curriculum
.
Nowadays, he is founder of Súk.sSO-Zlaté Klasy, where he teaches physical education and informatics.
He has been in the world of martial arts since 1989, starting with Karate and Self-Defence.
Between 1993 and 1996 he joined Wing Tsun HWTO Hungary, where he attended seminars led by Master Leung Ting.
In 1997-1998, aimed to study "first hand" Wing Tchun from Nick Smart, he moved to England. Here, he became a member and representative of the international organization W.A.T.T. (formerly P.A.W.T.O.) for Slovakia. Every year, he attends trainings and seminars at the organization's HQ in Chorley, England.
Since then, he started to teach to the public the club had place in Lazaretska, Bratislava until 2006, before moving to other locations
In 1999 he collaborates on the translation of "Wing Tchun - New Thought Form" by Master Nick Smart.
In 1998-2001 he organized a seminar for Slovak trainees, led by Master Nick Smart. Records can be found by Telerano-TV Markiza.
In 2001 he achieved the grade of Wing Tchun 1st Class Coach.
In 2002 he took part in a free-fight tournament in Manchester (UK) with his trainees.
From 1998 to 2004, he taught children in the Social Cultural House in Zlaté Klasy and in the Elam Club in Bratislava.
In 2003, he founded his own Autodefence Club with Wing Tchun aids.
In 2005 he performs along with his trainees, he performs in the annual most important martial arts in Slovakia, M.A. Evening at NTC Sibamac Arena, Bratislava.
Since 2006, Sifu Lali has been organizing various seminars in Trenčín and Moravia
In the same period, he also leads more branches of the club: Bratislava (1997), Trnava (2003), Nitra (2006).
In 2007 he received the highest level by the Autodefence Wing Tchun Organization: Master Coach Certified Chief Instructor, from Masters Nick Smart and Milan Prosenica.
In 2008 he opens the main club in Grosslingova, creating an environment according to principles of Feng-Shui and Shaolin wisdom.
In 2009 he makes a footage about Wing Tchun for TV Ruzinov.
In 2016, with his thesis at STU, he successfully defends the legendary one-inch punch using an accelerometer.
Later in the year, he achieves a higher recognition as Advanced Master Coach.
In 2017, Súkr. SOŠ Zlaté Klasy becomes the only school in Trnava region where you can find a 4th year study branch about protection of persons and properties.
"Higher level techniques are like mountain ridges covered by fog, you can't see them, but they're there" (Yip Man)"