Prof. Milan Prosenica
(1953-2008)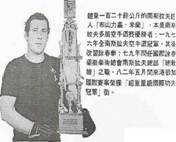 Transcript from WT book with updated chronology Prof. Milan Prosenica was Nick Smart;s Wing Tchun co-principal of the former PSWTO based in Slovenia. He was also an accomplished, seasoned professional ring fighter, coach and Professor with a university degree in sport, other than, possibly, the only man who have taken Wing Tchun principles into professional open full-contact competitions.
Former European super-heavyweight champion, having won the world open free-fight championship in Hong Kong (1980), Milan has a total of around 300 ring contests. His nickname was the "Big Bear" and later known also as "Raging Bull".
When comparing sport with reality, Milan said: "I don't change my thinking between sport and self-defence. I just always think at Wing Tchun principles – to do, to practice, to apply. In or out of the ring, I just see myself going to work. I don't philosophise about how I am going to fight. I can talk to you for two hours about how to play football. No, get your boots, get a ball out and let's play".

"Fighting is doing, not talking. Sometimes what you do has to change. When you're wearing boxing gloves, you cannot do Tan Sao (Angle Arm – a deflecting technique), but you find alternatives that work, like Fook Sao ("S" Arm). In some contests I am told there are no elbows, kicks or knees allowed. Basically, for the uninitiated it looks like classic boxing. But you must also remember that Wing Tchun was Asian boxing. So, no problem: Wing Tchun handwork and footwork are good enough for me".
Milan clearly feels that contests are important to sharpen the eye and hone the skill, and that there is too much talk about theory, and not enough "practical". "In a free fight, you know how good you really are. You learn what really works. You hear people outside the ring call to you to do this or that. From the outside it may look easy, but it's not the same inside, they don't know what I know. I can see when he (the opponent) is ready to move. It is just like chess: you have to use your mind to prevail".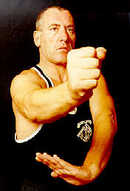 He clearly also enjoyed the thrill of the chase. "Sport is a game. Every ring fight is a game – I trick you, you trick me, we're trying to outwit each other with the footwork and the handwork". Reflecting on his move to professional fighting, he admitted: "Once it was all about trophies, but then you got paid well for winning!"
Beyond his focus on practical training, Milan is keen that it should not be pushed too soon. "If a person goes into a gym and gets hit hard, you won't see him again. That's the wrong way. Show the techniques, practice with them. When they have basic Wing Tchun proficiency then he may or may not choose to use competitive fighting to improve himself, it is his choice".
Fighting footwork was something of a speciality with Master Milan, and fighters of other disciplines – boxers, Thai Boxers, full contact Taekwondo – have sought coaching by Milan to improve their own footwork and hand combinations. "In Europe many contact fight organisations exist. People enjoy competitive fighting, and there are many champions. Some come to me to help them achieve their tournament success".
Milan started his martial arts career in the former Yugoslavia at the age of 12, studying traditional Karate for some nine years. He became a common winner of championships even in those days. He also achieved a recognition as Karate Master. He was then introduced to the Wing Tchun, where he developed and tested the Wing Tchun fighting techniques to suit his needs in professional tournaments. Through this association, he met Nick Smart in 1986. They struck a strong and lasting friendship. "My friendship with Nick is very important to me. I admire his practical skills, especially his Chi-Sao, he is excellent in that area, and the best I have seen. In martial arts it is important to have friends. In football you can have supporting players. In Wing Tchun it's important to have companions who are also specialist and talented. It takes more than one person to make a skilled and able team".
In the early 80's, Milan went on to become a Professor of sports, after studying at the University of Zagreb. Speaking of the Pro-Am teaching programmes, Milan said: "Apart from the Wing Tchun syllabus we also have "Autodefence" which is realistic, practical, simple and useful for everyone. The "Sport Fighting System" is also different training to the Wing Tchun programme. It's nearer to boxing training in its practices, it's specifically for open tournament ring fighting. We cover it all: classical, weapons, sport and self-defence".
"I do not sport fight now because as you get older it is more difficult to train for the fights, so it's important for me to teach others now". Milan was a real winner in life. He offered his experience and knowledge to all that are open-minded enough to gain the benefits.
"Think, plan and work, and one day you will arrive at the place you want to be". (Milan Prosenica)
Source of transcript and adaptation:
© Nick Smart and Milan Prosenica- The Autodefence Company –New Thought Form and Applications book